Background Information

Health Consequences
- Chornobyl Health Impact. Factsheet.
Nuclear Power and Climate Change
- Nuclear Power: No Solution to Climate Change. (pdf) WISE/NIRS study. January-February 2005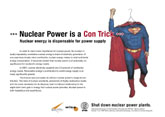 The international poster campaign of IPPNW (International Physicians for the Prevention of Nuclear War), EUROSOLAR (European Association for Renewable Energy) and WISE International (World Information Service on Energy) shows how untenable the industry's prophecies are. 8 posters use concise arguments that succinctly illustrate why.
IPPNW literature review on Chernobyl consequences,
April 2006